In 2020, real estate sales in Geneva represented 7.8 billion francs. In 2021, they will exceed this figure by reaching 9 billion francs. This record amount is linked to both the price level and the number of transactions. It also reflects the appetite of investors for assets located in Geneva.
Several factors explain this phenomenon. The context of negative interest rates makes real estate more attractive as an investment. As well as the relatively scarce supply, population growth, the region's economic dynamism and historically low mortgage rates. These high prices apply to all categories of property, placing a greater financial burden on the ability to purchase.
At SPG One - Christie's International Real Estate, we will focus on our core business, which is prestige real estate. These are very large properties, both in terms of living space and land size. For primary residences, buyers are looking for turnkey properties, with no major work to be done, no nuisance, and focused on comfort, well-being and new housing standards.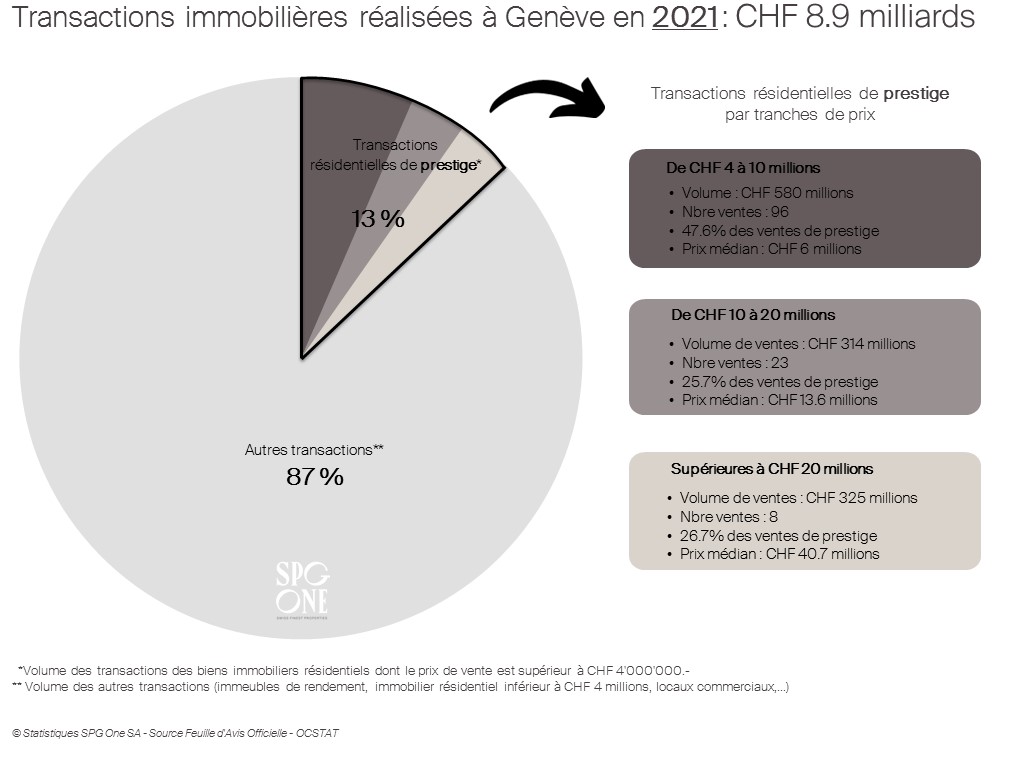 All high-end properties are sought after, whether it be a villa, a waterfront residence, an apartment in the Old Town or a private mansion. Between city dwellers and nature lovers, each object finds its audience. It should be noted, however, that our clients pay particular attention to the surface area and quality of interior and exterior spaces, most certainly as a result of the successive confinements experienced by the entire population.
The historically low level of bank rates, as well as the negative interest, play an important role in the purchase of this type of exceptional property. As well as the fact that they are located in an attractive and stable region, very pleasant in terms of living environment, security, health management, cultural offer and very competitive thanks to the single tax rate on corporate profits that Geneva has chosen to set at 13.99%.
A certain number of clients that we accompany have also decided to acquire a secondary or even primary residence in one of the Alpine tourist regions, notably in Gstaad, Verbier, Crans-Montana, but also in historically less popular resorts, such as Villars. The attractiveness of our peri-urban regions motivates these choices, as well as the search for a better quality of life and an optimal balance between professional activity and leisure. This trend has accelerated with the generalization of remote work.
Our clients are foreigners as well as locals. It should be noted, however, that a majority of foreign buyers of properties priced above CHF 10 million have been living in our country for many years and/or are naturalized in the segment above CHF 10 million, since the law restricts the acquisition of real estate to foreigners not domiciled in Switzerland.
Luxury real estate is a small part of a global market where emotions often take precedence over rationality. Today, it is difficult to predict with certainty the evolution of prices in 2022. While it is possible that they will remain stable or continue to rise, it is unlikely that they will reach the level observed in 2021. Generally speaking, real estate remains an attractive investment because it offers many advantages: it is both tangible and sustainable, and it allows you to combine your investment with your life plans.
Editors: Valentine Barbier-Mueller and Maxime Dubus - February 2022