The prestige real estate market is like the art market: nothing seems to make it falter. With the turbulent events of the last few months, the state of the world economy could legitimately have slowed down this particular brokerage sector. But as in all crisis situations, large fortunes continue to place their trust in safe havens. And stone, like art, is one of them.
Switzerland is becoming more than ever a sought-after place for these buyers in search of stability and confidentiality, as can be seen in the cities as well as in their outskirts and in the mountain resorts, where transactions have returned to the volume they were at before the fall of the financial markets at the beginning of 2022. Certainly less visibly than in the past, as most of these record sales often take place off-market. We are talking here about properties sold for between 5 and 10 million francs, but the upper range, between 10 and 30 million, also shows a significant increase. This strong growth is largely due to the evolution of the market, which has seen a constant increase in the number of buyers.
On the strength of its latest transactions, SPG One - Christie's International Real Estate is continuing to develop its activities in the Lake Geneva region, where it is seeking properties with character for its national and international clientele. Trust, knowledge and confidentiality are the pillars of SPG One. The tailor-made service is highly appreciated by sellers who wish to enhance their assets and by buyers who wish to be accompanied until the realization of their project.
It remains to be seen whether this healthy market will last. In the short term, without a doubt! This very wealthy clientele, often foreign, who are looking for comfort, security, stability and the beauty of the landscape that Switzerland offers, should continue to want to settle in our country. Our exclusive exchanges with our partner Christie's International Real Estate (specialist in luxury properties worldwide) bear witness to this on a daily basis.
In the medium and long term, however, the question arises. How long will these private buyers be willing to pay for objects that they sometimes consider overvalued? Justifying these prices by the scarcity of the supply of built properties, but also by the narrowness of the buildable territory, will not be tenable for much longer. In any case, we must not forget that this wealthy clientele is very often guided by emotional considerations. Purchases are generally made on the spur of the moment, even if the quality/price ratio also comes into play.
Focus on Geneva real estate market trends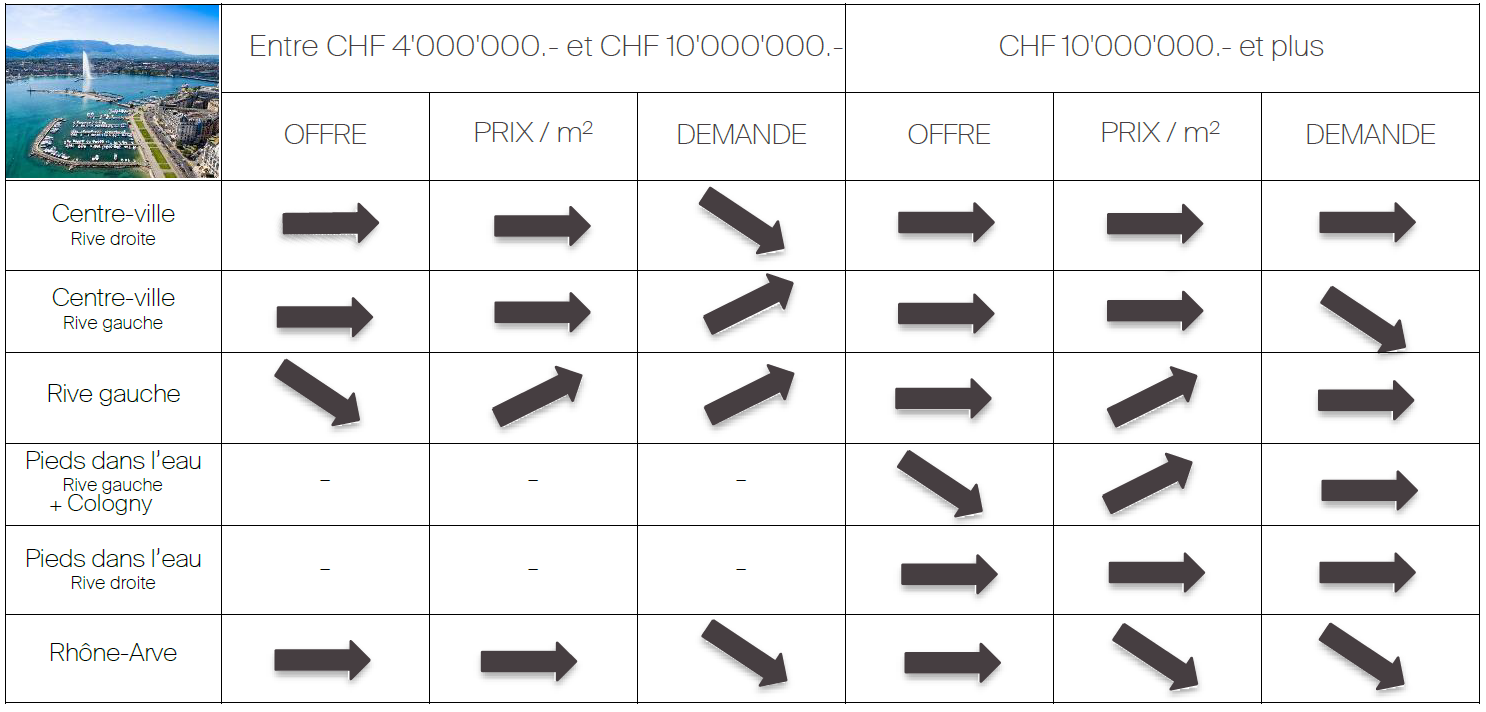 Statistiques SPG One SA 2023 ©
Editors : Emmanuel Grandjean et Maxime Dubus - March 2023