Tendances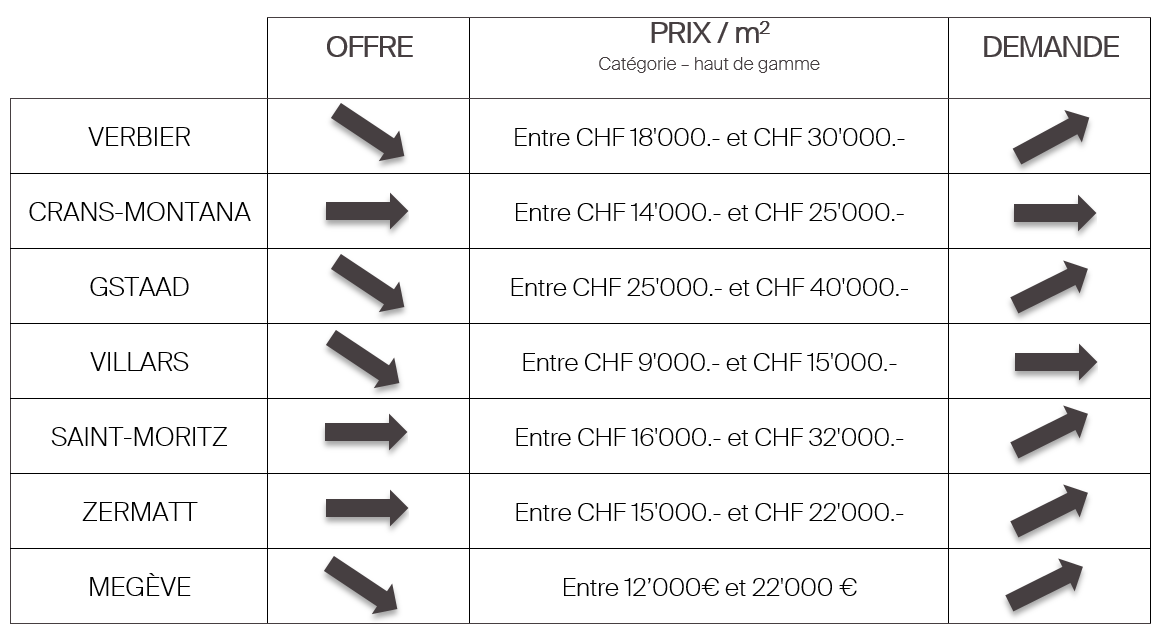 Statistiques SPG One SA 2021 ©
Ski resorts; always attractive !

Since a year, the health crisis that has been hitting us has put a damper on our desire to escape. Except in the mountains, which have become a refuge for urban populations in search of the great outdoors. Though it offers an exotic setting, a prestigious residence in a renowned resort allows you to enjoy a wide range of sports activities all year round for all ages - skiing, of course, but also hiking, mountain biking or golf - to take time for yourself in a wellness center or to do some chic shopping. The whole family will be delighted to meet in a warm and magical setting. Some mountain villages are also great places to meet people and get business opportunities. The cantons of Valais, Vaud and Gstaad have airfields that put you just a few minutes from the slopes.
Before considering the acquisition of a prestigious property in the mountains, it is essential to clearly define your expectations. Whether you like sports or relaxation, the choice of an alpine resort is of the utmost importance in order to take full advantage of its multiple qualities. Just as it is necessary to know that Swiss law remains rather strict as regards the purchase of a second home.
More convivial and personal than a stay in a five-star hotel, luxury chalets today offer all the modern comfort while keeping their authentic aspect. Many prestigious properties offer an indoor swimming pool, a spa or a wine cellar in a typical and pleasant setting with, sometimes, concierge service. The ease of access to the residence and the proximity of the ski lifts are often decisive criteria in the choice of a property.
Verbier and Crans-Montana, sporty and festive
The Valaisan resort of Verbier, located in the heart of the Val de Bagnes, offers a grandiose natural setting, notably thanks to a breathtaking view of the Combins massif. Sporty and authentic, it offers more than 800 km of mountain bike routes, 500 km of trails and 21 trails, as well as direct access to the 4 Vallées ski area.
Verbier is a great place to live with its characteristic chalets and their slate roofs. Village life is punctuated by numerous events, such as the Verbier Festival for classical music, the Verbier Xtreme for freeride enthusiasts, the Verbier International Jumping for horse riding enthusiasts and the Verbier Art Summit for contemporary art lovers. A resort on a human scale, it also attracts guests who reserve at La Grange or La Table d'Adrien.

Also located in Valais and boasting a vast ski area, Crans-Montana also owes its reputation to the organized sports competitions that take place there, including the Omega European Masters golf tournament and the Ski World Cup.
Gstaad and Villars, discreet and quiet
Situated in the municipality of Saanen in the canton of Bern, Gstaad is THE luxury resort "par excellence", the preferred destination for all luxury brands. The village is frequented by the jet-set who knows that it will not be disturbed, and is distinguished by its chalets with a sophisticated architecture and perfectly integrated into the landscape: only wooden constructions are allowed, in order to preserve the authentic and intimate character of the village. It should be noted that every winter, the resort welcomes the boarders of the Rosey school, a private institution with a worldwide reputation.
In recent years, Villars, in the canton of Vaud, has also seen a growing interest. This resort in the heart of the Vaud Alps gives access to a ski area that is a must in Switzerland, which it shares with Les Diablerets and Gryon. It still remains discreet compared to its sisters, which makes it a privileged destination to benefit from a quiet location. As in Gstaad, the village is home to one of the most prestigious private boarding schools in Switzerland: Aiglon College.
St. Moritz and Zermatt, traditional and authentic
History considers her the dean of winter sports resorts. St. Moritz enjoys ideal sunshine all year round. The resort is a holiday destination for the German and Italian-speaking world and is home to numerous palaces, thermal spas, internationally active art galleries (Hauser & Wirth, Carsten Greve, Caratsch, Bischofberger) and a casino. Located in the canton of Graubünden, one of the most splendid regions of Switzerland, St. Moritz is the starting point for astonishing excursions to discover typical villages (Pontresina, Zuoz) and the works of some of the country's star architects, such as Valerio Olgiati and Peter Zumthor, author of the famous Bains de Vals.
Renowned for the extent of its ski area - the highest in Europe -, Zermatt is one of the most beautiful resorts in the Valais on which the Matterhorn is enthroned. Despite its tourist success, the resort has managed to preserve its mountain character. Strict town planning rules have made it possible to preserve traditional dwellings, especially the "raccards". In addition to its plethora of sports and shopping opportunities, the village has the particularity of being car-free. Zermatt can be reached by train. This measure ensures impeccable air quality and, for its visitors, an unforgettable stay in a station as if frozen in time.
Megève, chic and gastronomic
Since its rise at the beginning of the 20th century as a resort of the Rothschild family, Megève has been one of the most famous and select French resorts in Haute-Savoie. Ideally located 45 minutes by car from Geneva, it is the rallying point for the people of Geneva, but also for the British tourists who come here at weekends with a simple flick of their wings. From an architectural point of view, Megève has respected its history by privileging beautiful stone houses with luxurious and modern interiors. In addition to its magnificent "Evasion Mont-Blanc" ski area, the village offers many summer activities: golf, tree climbing, horse riding, climbing, paragliding, swimming, tennis, cycling and summer tobogganing. Gastronomy occupies a special place in the life of Megève, which has six starred tables, including « La Ferme de mon père" and the "Maison des Bois" of French chef Marc Veyrat.
"Creators of favorites", the experts of SPG One will be able to bring you tailor-made advices to find the chalet or the apartment of your dreams.
Editor : Emmanuel Grandjean - February 2021