The health crisis and the impossibility to travel that have hit us for many months now, have put a damper on our desire to escape. Except in the mountains, which have become a refuge for urban populations in search of fresh air.
Offering a change of scenery, a prestigious residence in a renowned resort allows one to enjoy numerous sports activities all year round - skiing, of course, but also hiking, mountain biking or golf - to take time for oneself in a wellness center or to practice chic shopping in the mountains.
Furthermore, the rules put in place by the Swiss authorities and the maintenance of ski lifts allowed the resorts to have a good season last year and made some foreigners want to come to Switzerland not for a holiday but to settle down.
Before considering the purchase of a prestigious property in the mountains, it is essential to clearly define one' s expectations. Whether you are a sports or relaxation enthusiast, the choice of an alpine resort is of the utmost importance in order to take full advantage of its many qualities.
Just as it is important to know that Swiss law remains quite strict when it comes to buying a second home: the rules do not allow non-residents to purchase more than 250 m².
With the phenomenon of semi-main residences, owners are no longer taking advantage of their properties only for vacations, but are buying to come with family, friends or to work. Demand is on the rise, driven by the desire to become a homeowner and by the negative interest rate system on savings, which has resulted in a surge in prices.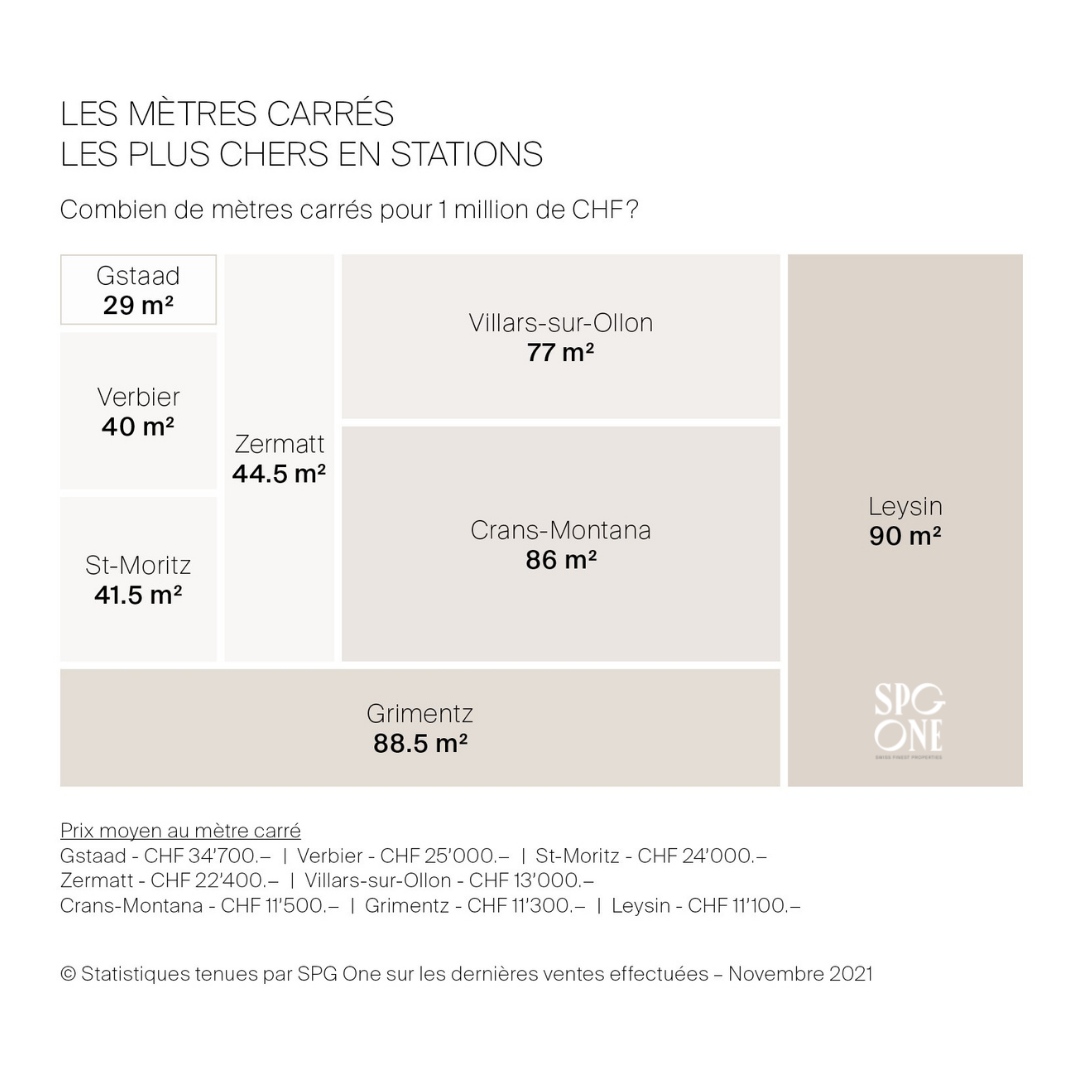 Let's go and discover some resorts:
Verbier and Crans-Montana, sporty and festive
Verbier is a great place to live, with its characteristic chalets and slate roofs. Village life is punctuated by numerous events, such as the Verbier Festival for classical music, the Xtreme Verbier for freeride enthusiasts, the Jumping International de Verbier for horseback riding fans and the Verbier Art Summit for art lovers. A human-scale resort that remains mainly Swiss (50%), it is also visited by the British, Scandinavians (on the rise), Belgians and French, often already living in Switzerland.
Also located in the Valais region and boasting a vast ski area, Crans-Montana also owes its reputation to the sports competitions held there, notably the Omega European Masters golf tournament and the Ski World Cup. It remains a popular resort for families, most of them Swiss.
Gstaad and Villars, discreet and quiet
Gstaad is THE posh resort par excellence, the preferred drop-off point for all luxury brands. Attended by the jet-set who know they won't be disturbed, the village stands out for its chalets with a sophisticated architecture perfectly integrated into the landscape: only wooden buildings are allowed in order to preserve the authentic and intimate character of the village.
In recent years, Villars has also seen a growing interest. This resort in the heart of the Vaud Alps gives access to an unmissable ski area that it shares with Les Diablerets and Gryon. It is still discreet compared to its fellow resorts, which makes it a privileged destination for enjoying a quiet location.
"Creators of coups de coeur", the experts of SPG One - Christie's International Real Estate will provide you with tailor-made advice to find the chalet or apartment of your dreams.
COTE MAGAZINE
Pages 114 - 116
Edition December/January 2021/22
Rubrique What's Up